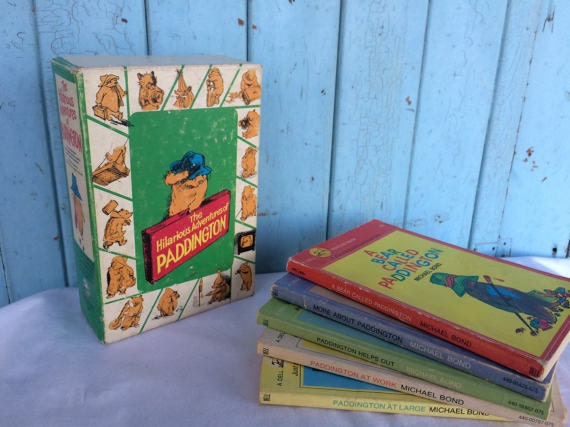 [photo borrowed from HenNChicksVintage. Please visit their shop!]
I remember my first set of Paddington books. It looked like the one pictured above. I received the set for my birthday one year. I don't know if I immediately read the books, or if they sat for a while on my bookshelf, but it was one of the only sets of books that I kept into my adulthood. I still have the books, but the box was destroyed long ago.
I think Paddington made me want to visit London. I think Paddington made me want a big, floppy hat, with a cozy overcoat. And I KNOW that Paddington made me want to eat orange marmalade. 
I did visit London eventually; and I did wear a big, floppy hat, with a cozy overcoat while I wandered the tube stations; and, while I was still a kid, I made my mother buy me lots of orange marmalade to eat on slices of white Bunny bread that I'd pretend were delicious English crumpets. And I did these things just to re-create the feeling of being in the Paddington world. To me, as a kid, the Paddington world was more charmingly English than all of England, even if Paddington was only a small bear from Darkest Peru.
So, thank you, Michael Bond, for imagining this bear. You (and your bear) are surely responsible for some significant life choices that brought me the husband and children that I have today. Thank you for that and may you rest in peace.